Charlotte Market Stats – April 2020 | Apex Realty of the Carolinas
Posted by Sharetha Holman Cooper on Friday, May 29, 2020 at 5:21 PM
By Sharetha Holman Cooper / May 29, 2020
Comment
April 2020 brought about big changes within our local housing market. While the stock market recovered significantly in March, the effects of COVID-19 to the economy continued to build.
In just a few short weeks, more than 20 million people filed initial unemployment claims according to the United States Department of Labor. In addition, stay at home orders and a slowdown of economic activity across the country significantly slowed down real estate activity in our local market and across the nation.
Here's a snapshot of the Charlotte market real estate activity for April 2020 (compared to April 2019):
New Listings were down by 26.6% to 4,258.
Pending Sales decreased 17.6% to 4,045.
Homes Sold decreased 20.8% to 3,534.
Inventory shrank 24.9% to 7,556.
Home Prices moved higher as Median Sales Price was up 8.1% to $275,000.
Months' Supply of Homes for Sale was down 28.0% to 1.8., indicating that demand INCREASED relative to supply.
The lower supply of homes and higher median sales price indicates demand continues to be very strong, with the market still heavily in favor of the seller.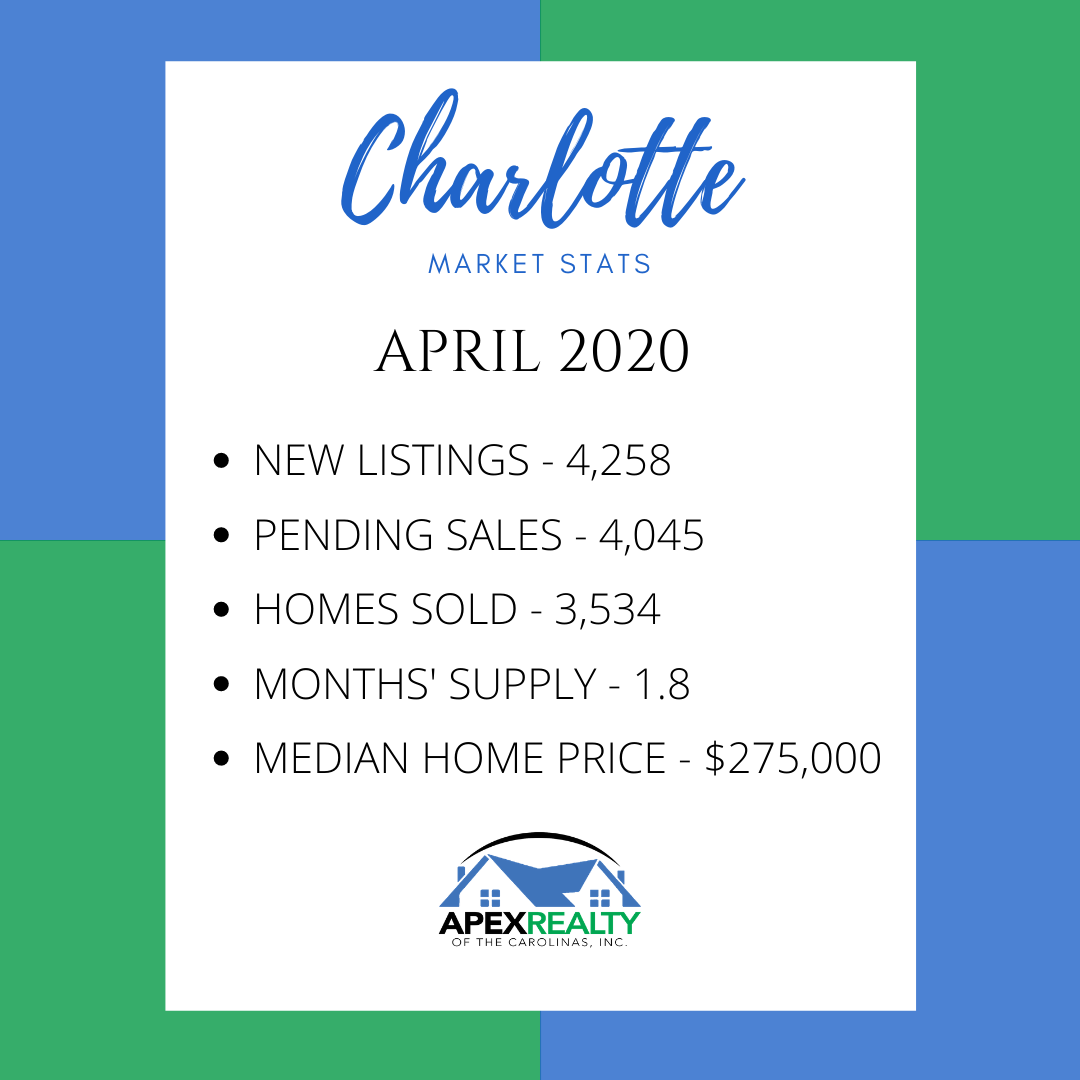 While the effect of COVID-19 continues to vary widely across the country, the industry is adapting to the current environment by conducting more business using technologies such as virtual showings, higher quality virtual tours, and e-signing to help buyers and sellers with their housing needs in the face of these challenges.
Apex Realty of the Carolinas continues to seek innovative ways to provide the best quality information and marketing online for home sellers and buyers. Our use of 360 cameras for state-of-the-art virtual home tours, drone technology for aerial and neighborhood views, e-signing, and video conferencing for seller and buyer consultations allows us to present our clients with the best, most convenient methods to close the deal.
If you have any questions regarding the overall Charlotte market or activity in your specific or desired neighborhood, please feel free to give us a call or send us a message. One of our agents will be glad to assist you.