Charlotte Market Stats – May 2020 | Apex Realty of the Carolinas
Posted by Sharetha Holman Cooper on Wednesday, June 10, 2020 at 6:18 PM
By Sharetha Holman Cooper / June 10, 2020
Comment
Real estate activity has begun to recover across much of the country. According to Freddie Mac, mortgage rates are near all-time lows, spurring strong interest by buyers. Buyers have been quicker to return to the housing market in force than sellers, who have been showing a bit more reluctance to list their homes than is typical for this time of year, but trends are improving. As states and localities continue to moderate their COVID-19 policies, real estate activity is expected to continue to improve in the coming weeks.
Here's a snapshot of the Charlotte market real estate activity for May 2020 (compared to May 2019):
New Listings were down by 22.1 percent to 5,168.
Pending Sales increased 14.8 percent to 5,926.
Homes Sold decreased 30.4% to 3,598.
Inventory shrank 37.0 percent to 6,712.
Prices moved higher as Median Sales Price was up 1.9 percent to $265,000.
Months' Supply of Homes for Sale was down 38.5 percent to 1.6., indicating that demand again increased relative to supply.
The lower supply of homes and higher median sales price indicates demand continues to be very strong, with the market still heavily in favor of the seller.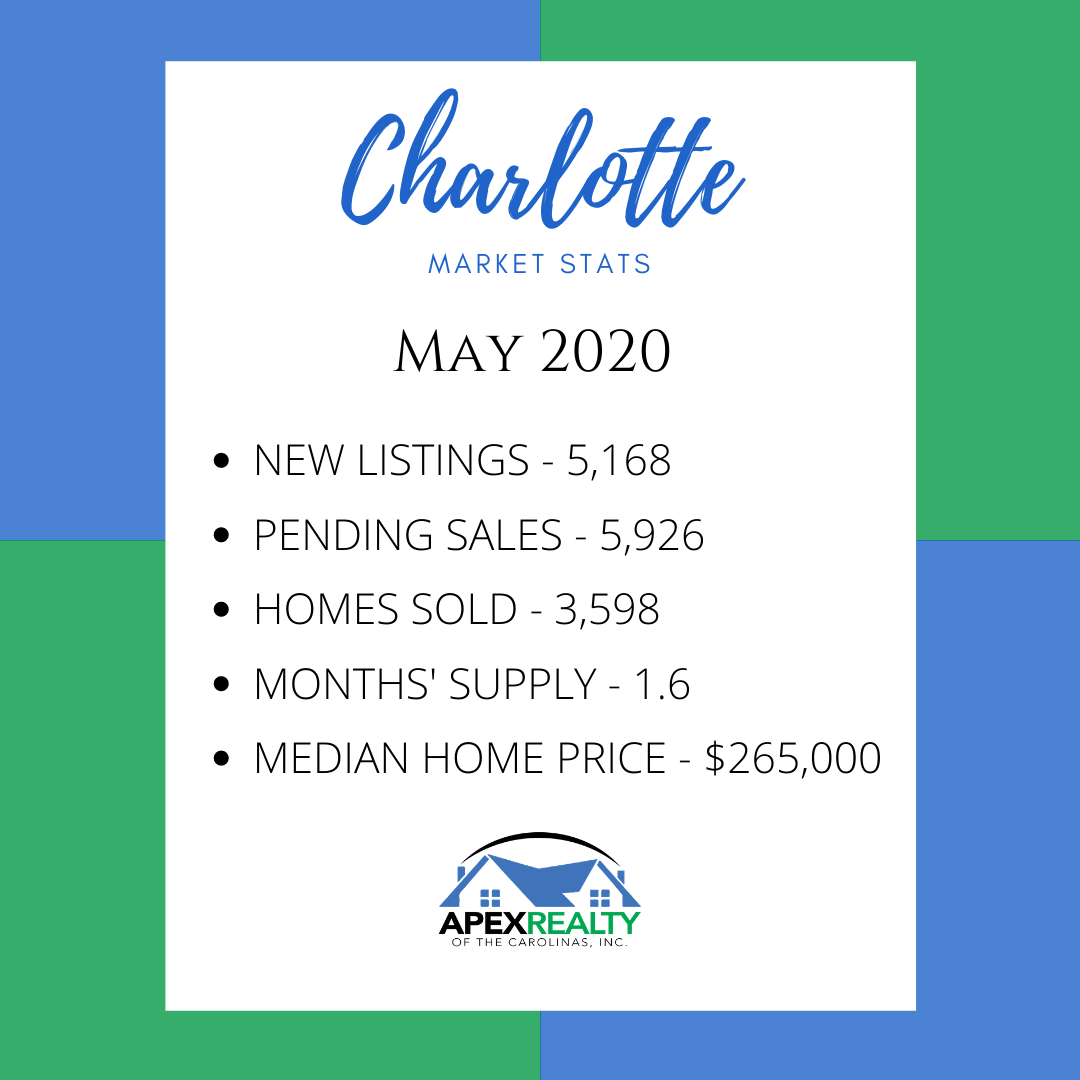 While the effect of COVID-19 continues to vary widely across the country, the industry is adapting to the current environment by conducting more business using technologies such as virtual showings, higher quality virtual tours, and e-signing to help buyers and sellers with their housing needs in the face of these challenges.
Apex Realty of the Carolinas continues to seek innovative ways to provide the best quality information and marketing online for home sellers and buyers. Our use of 360 cameras for state-of-the-art virtual home tours, drone technology for aerial and neighborhood views, e-signing, and video conferencing for seller and buyer consultations allows us to present our clients with the best, most convenient methods to close the deal.
If you have any questions regarding the overall Charlotte market or activity in your specific or desired neighborhood, please feel free to give us a call or send us a message. One of our agents will be glad to assist you.